#Bicocca25 | Iniziativa organizzata nell'ambito delle celebrazioni dei 25 anni dell'Università Milano - Bicocca | Nuova scadenza estesa al 11 giugno 2023
Image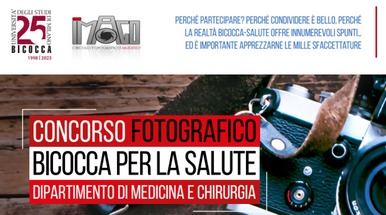 In occasione dei 25 ANNI dalla fondazione dell'Università Milano-Bicocca, il Dipartimento di Medicina e Chirurgia (School of Medicine and Surgery) organizza un concorso fotografico il cui tema è: "BICOCCA PER LA SALUTE".
Tale tema consente di poter considerare il rapporto Bicocca-Salute da molteplici punti di vista e non solo in termini di malattia e cura ma anche di tutto ciò che comprende e completa questa tematica, quindi dalla vita universitaria, ai momenti di formazione, alla quotidianità di chi vive questa realtà.
Perché partecipare? Perché condividere è bello, perché la realtà Bicocca-Salute offre innumerevoli spunti… ed è importante apprezzarne le mille sfaccettature
vi aspettiamo!!!
Regolamento del concorso
I concorrenti potranno caricare da 1 a 3 fotografie entro e non oltre il 11.06.2023 - nuova scadenza estesa di partecipazione.
Il link per il caricamento delle fotografie è il seguente:
► https://forms.gle/7Xw4x21bVeCbMmMPA
Le prime 3 foto classificate e i rispettivi concorrenti verranno premiati nel corso della giornata del Dipartimento di Medicina e Chirurgia che si terrà il 21 giugno 2023.
Per partecipare leggere attentamente il Regolamento.